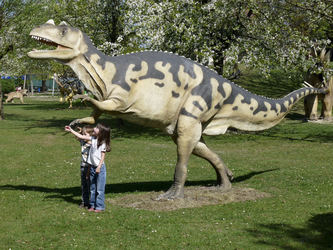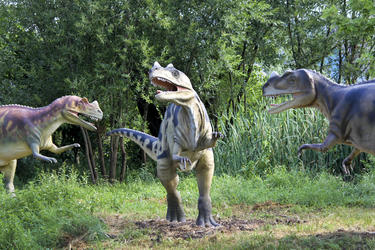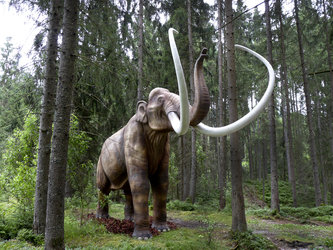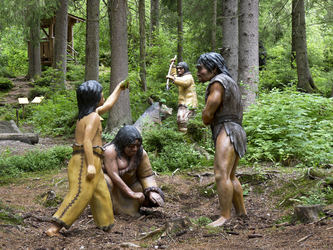 Expositions
The World of Dinosaurs
World of Dinosaurs, Vallorbe
Located in the forest near the Vallorbe Caves, "The World of Dinosaurs" and its life-size exhibits is open for you to discover the world of dinosaurs every day from 9.30 am to 6.00 pm between 1st May and 3rd November 2019.
More than 60 life-size models are on show in the forest near the Vallorbe Caves, allowing the visitor to step back into the age of dinosaurs. All these full-size models have been made using scientific findings and conclusions so that a realistic experience is waiting for visitors.

Replicas of animals which have disappeared like the mammoth or sabre-toothed tiger can also be admired face to face. And finally a wide range of children's activities make this open-air exhibition something out of the ordinary.
The purchase of a ticket for The World of Dinosaurs entitles visitors to a CHF 2.00 reduction on the entry price for the Vallorbe Caves, and vice versa.
Date
To 3/11/2019 every Mon 09:30 - 18:00 h

every Tues 09:30 - 18:00 h

every Wed 09:30 - 18:00 h

every Thurs 09:30 - 18:00 h

every Fri 09:30 - 18:00 h

Show All
every Sat 09:30 - 18:00 h

every Sun 09:30 - 18:00 h

Price
Per person :
* Adult : CHF 12.00
* Child (3-13 years old) : CHF 8.00
* Pen./inv./stud. : CHF 10.00
* Schools : CHF 6.00
Address
World of Dinosaurs
Chemin des Grottes
1337 Vallorbe