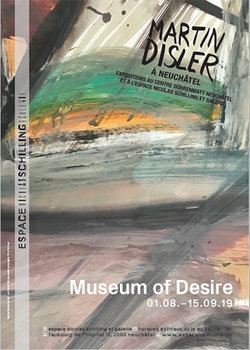 Expositions
Exposition : Martin Disler "Museum of Desire"
Espace Nicolas Schilling & Galerie, Neuchâtel
A l'occasion du 70e anniversaire de la naissance de Martin DISLER (1949-1996) l'Espace Nicolas Schilling et Galerie et le Centre Dürrenmatt Neuchâtel rendent hommage à sa période créatrice, à Neuchâtel, environnement de création pour un temps et dernier lieu de résidence de l'artiste.

"Museum of Desire", exprime le désir de notre espace de devenir le temps de cette exposition un musée éphémère. Les oeuvres de la collection Nicolas Schilling dialoguent avec des oeuvres prêtées par le Musée d'Art et d'Histoire de Neuchâtel.

Le titre "Museum of Desire" fait aussi écho à la série, du même nom, exposée au prestigieux Musée Albertina à Vienne en 1991, issue de la collection René Steiner, éditeur et ami de l'artiste.

A travers cette sélection d'oeuvres de grands formats nous vous invitons à découvrir la gestualité expressionniste de cet artiste d'envergure internationale.
Date
To 21/9/2019 every Thurs 14:00 - 18:00 h

every Fri 14:00 - 18:00 h

every Sat 14:00 - 18:00 h

Price
Tarif :
* Entrée libre : Gratuit
Address
Espace Nicolas Schilling & Galerie
Faubourg de l'Hôpital 11
2000 Neuchâtel