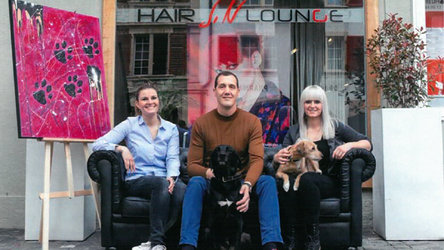 Expositions
Art for Animals
Hair Lounge, Murten
Exhibition of the artist Roger Brönnimann
"Circles and Lines on Black and White"

The exhibition is fully dedicated to the protection of animals. 25% of the proceeds from the sale of paintings and 50% of the sale of animal sculptures will be donated to the animal welfare organisation "Tierhilfe Lucy" from Kallnach!
The artist, Roger Brönnimann, has been engaged in abstract painting for a decade. Essential aspects of his work are the play with colours. He was inspired by astronomy, the depth and breadth of the universe and the intensity of the colours and elements that accompany it. The creative process of his works is strongly impulsive, guided by mood and feelings. The history, the backgrounds and the deeper meaning of his works emerge during the creation of his works.
Date
To 27/7/2019
every Tues
09:00 - 12:00 h
13:00 - 18:00 h

every Wed
09:00 - 12:00 h
13:00 - 18:00 h

every Thurs 12:00 - 20:00 h

every Fri
09:00 - 12:00 h
13:00 - 18:00 h

every Sat 08:00 - 14:00 h

Address
Hair Lounge
Hauptgasse 4
3280 Murten
Contact
Hair Lounge
Hauptgasse 4
3280 Murten
+41 26 670 37 70